Minimum Viable Block Chain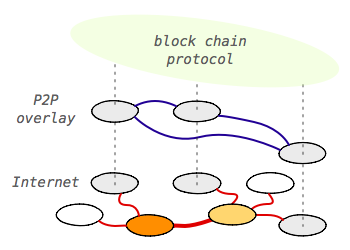 Cryptocurrencies, and Bitcoin in particular, have been getting a lot of attention from just about every angle: regulation, governance, taxation, technology, product innovation, and the list goes on. The very concept of a "peer-to-peer (decentralized) electronic cash system" turns many of our previously held assumptions about money and finance on their head.
That said, putting the digital currency aspects aside, an arguably even more interesting and far-reaching innovation is the underlying block chain technology. Regardless of what you think of Bitcoin, or its [altcoin derivatives][altcoin], as a currency and a store of value, behind the scenes they are all operating on the same basic block chain principles [outlined by Satoshi Nakamoto][bitcoin]:
We propose a solution to the double-spending problem using a peer-to-peer network. The network timestamps transactions by hashing them into an ongoing chain of hash-based proof-of-work, forming a record that cannot be changed without redoing the proof-of-work. The longest chain not only serves as proof of the sequence of events witnessed, but proof that it came from the largest pool of CPU power... The network itself requires minimal structure.
The block chain is agnostic to any "currency". In fact, it can (and will) be adapted to power many other use cases. As a result, it pays to understand the how and the why behind the "minimum viable block chain":
What follows is not an analysis of the Bitcoin block chain. In fact, I intentionally omit mentioning both the currency aspects, and the many additional features that the Bitcoin block chain is using in production today.
What follows is an attempt to explain, from the ground up, why the particular pieces (digital signatures, proof-of-work, transaction blocks) are needed, and how they all come together to form the "minimum viable block chain" with all of its remarkable properties.
I have learned long ago that writing helps me refine my own sloppy thinking, hence this document. Primarily written for my own benefit, but hopefully helpful to someone else as well. Feedback is always welcome, leave a comment below!
---